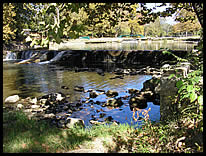 Welcome to The Fall Creek Stream Guide!

We have put together an Easy to Use and complete Guide to help you enjoy this wonderful and scenic stream. We start describing the river in Pendleton and end in the heart of Indianapolis.
Fall Creek is very scenic and is teaming with wildlife.
How to Use this Website
We have identified the information that you will probably need to plan your next trip to Fall Creek. It is important to know about: