Fall Creek Corridor Park at Fall Creek Road (in Marion County)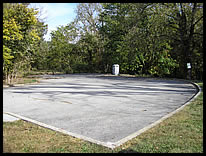 Parking: There is a large paved parking lot with room for about 20 vehicles. Part of Fall Creek Corridor Park (an Indianapolis city park), this access point is located on Fall Creek Parkway North Drive just south of Fall Creek Road (and west of I-465). This spot also offers access to the paved Fall Creek Greenway path, and it is identified on Fall Creek Corridor Park maps as parking area and #10. A little further downstream is parking area #9, which has roadside parking for 6 to 8 vehicles. This is the start of a lot of good parking along Fall Creek Parkway North Drive.
Path to River: At area #9 there is an easy 75 yard carry to the river over slightly hilly, grassy terrain.
River Access: At area #9 there is great access to the river for probably 15 to 20 boats at a time along the river bank, and it is a great place to linger while packing up or getting ready.
Additional Access
The Fall Creek Corridor Park extends along Fall Creek Parkway North Drive between Keystone Avenue and Fall Creek Road (east of I-465), and there are a total of 10 parking areas providing river access. Most parking areas are pull-offs for a couple to several vehicles along Fall Creek Parkway North Drive, and access to the river is generally a short to moderate carry on level to slightly hilly terrain. The largest and best parking and access areas are located near Fall Creek Road, 56th Street and Keystone Avenue.